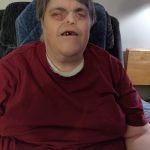 Born in 1953, Steve was educated at what is now called the New York Institute for Special Education, from which he graduated with a New York State Regents diploma in 1972. He excelled in a science, mathematics, and music curriculum, as well as having learned to spaek and write in Spanish, which was part of his Regents diploma.
Steve was encouraged to attend music school after he graduated, but he had other ideas. He attended Middlebury College, an internationally
renowned school for learning foreign languages, with the goal of obtaining a translator's job at the United Nations. Along the way, the broadcasting bug bit Steve, and bit him badly. Deciding Middlebury wasn't for him, he made a demo reel and shopped it around to various small-town stations in his home area, but with no luck.
While still in high school, Steve was also bit by the computer bug, and in 1979, with fvirtually no formal training except knowledge of the
BASIC programming language, he got his first job in the budding information technology industry, a career that lasted twenty-seven years, moving him through working for a service bureau and two banks, where he became a bank officer, and was part of a group that managed data centers in New York, New Jersey, Texas, and Chicago.
When Internet-based broadcast technology was invented in the late 90's, Steve jumped right in, producing recorded programs for the owner of a low-power FM station in New Zealand that also had an Internet presence. When the owner-operator of that station started another online station under the direction of the American Council of the Blind, Steve helped get the service up and running, and was one of its first broadcasters. He had weekly slots on ACB Radio, where he played top 40 music from the 60's and 70's on Monday mornings, a progressive rock show called "The Underground" on Friday nights, and a contemporary Christian music show early Sunday mornings called "A Joyful Noise." He went on to broadcast his brand of retro radio thrice weekly on the Worldwide Legend, and brought his progressive and classic rock show to the Global Voice in 2010, which you can hear every Wednesday at 16 hours Universal Time. Steve has also helped train many broadcasters in Internet broadcast technology, practices and procedures for all three services.
For fun, Steve played piano and Farfisa organ on Friday and Saturday nights during the 70's and 80's for a rock and lounge band in his home county of Westchester, and thoroughly enjoyed himself playing Hammond B-3 organ for three weeks for a charismatic Baptist congregation while their regular organist, a member of the band, took some time off. He has had three guide-dogs, walked the annual New York City AIDS walk with two of them, and ran two popular New York City computer bulletin board–Chelsea Square and the Bat Cave–from 1984 through 1995.
Today, in addition to broadcasting, Steve keeps the Global Voice's server and services running as its technical manager, and makes all kinds of joyful noises with his Komplete Kontrol system, which occasionally disturb the neighbors, not to mention Marilyn, his wife since 1999, and their cat, Phoebe.
You can email Steve at rock@theglobalvoice.info.
More Posts for Show:
Rock's in Your Head